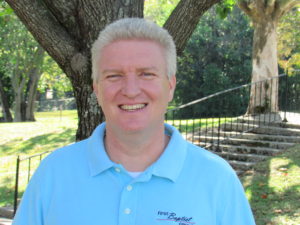 Mark has been in ministry since 2001. Over the years, he has served as a Children's Pastor, Youth Pastor, and College Pastor. In 2008, he felt the Lord calling him to become a church planter. After almost 5 years in church planting, he and his family felt God leading them to First Baptist Church of Gilbert. He has been serving here as pastor since January 2014.
Mark has a great love for the people of FBCG and for the Gilbert community. He is very passionate about sharing the Gospel and seeing people come to know Jesus as their Savior and Lord. He is also passionate about growing and maturing people in their faith in Jesus so that they, too, can share the Gospel and reach others for Christ.
Pastor Mark's favorite Bible verse is John 10:10, which says, "The thief comes only to steal and kill and destroy; I have come that they may have life, and have it to the full." (NIV) One of his favorite passages in Scripture is Psalm 139 because he loves how it describes God's amazing love for us so intimately and so completely.
When he's not preaching, Pastor Mark loves watching college football and cheering on his favorite team, the South Carolina Gamecocks. He also enjoys fishing as well as going for walks around Gilbert. Mark also likes to take day trips to the beach so that he can enjoy walking on the sand and looking at the ocean. The ocean reminds him just how big God is and how great and powerful He is.
Mark and his wife, Katherine, live in Gilbert with their sons Steven, Matthew, and John. Their daughter Beth and son-in-law Chris live in Lexington.