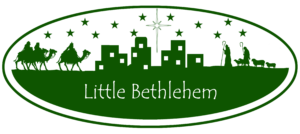 "Little Bethlehem" is a unique outdoor, walk-through event that allows visitors and participants alike to experience what it might have been like many, many years ago when Jesus Christ was born.
This FREE event gives visitors a chance to interact with the villagers of Bethlehem, taste some of the different types of food popular there, and visit their adorable animals.
More importantly, Little Bethlehem gives each visitor the opportunity to see the birth of Jesus Christ in a very unique and impacting way.
Free hot cocoa and coffee is served in the Snack Shack. We bake warm, delicious bread fresh each night, and we even have crafts for the children to make in the Woodworker's Shop!
Please join us this holiday season as we celebrate the birth of our Savior! Visiting Little Bethlehem is a wonderful way to help you and your family focus on the true meaning of Christmas!
This past December, we had over 3,500 visitors come visit us at Little Bethlehem! A

HUGE

'Thank You' to everyone who was a part of helping make 2016's production a great one!
Interested in volunteering?
Call the church office at 803-892-3699 to learn how to get involved!