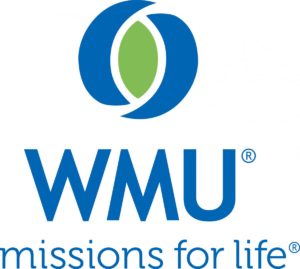 "So my dear brothers and sisters, stand strong. Do not let anything move you. Always give yourselves fully to the work of the Lord, because you know that your work in the Lord is never wasted."
WMU's Mission is to Inform and Inspire Christians to Influence Their World for Christ
WMU Challenges Christian Believers to Understand and be Radically Involved in the Mission of God Through:
Engaging in Mission Action and Witnessing
Developing Spiritually Toward a Missions Lifestyle
Participating in the Work of the Church and Denomination
Our next monthly meeting for Women on Mission and the Men's Ministry will be Monday night, February 24 at 6:30 p.m. in the Worship Center. Ladies, please plan to bring breakfast food to provide the night's meal. After the meal, women will meet in the Choir Room for a program on missions and information about upcoming mission projects. Our missions theme for February is "Grow in Christlikeness.
Our current weekly Women on Mission Bible study, Finding God Faithful, will continue every Tuesday through February 25 at 6:30 p.m. in the Choir Room. Our next Bible study will begin on March 10 and end April 21. Becoming More Than a Good Bible Study Girl is a six-week study by Lysa Terkeurst. Deadline to have a book provided for you is February 27. If you have questions, contact Robin McCartha at 892-3708.
The mission of WMU is to inform and inspire Christians to influence their world for Christ. There are opportunities for individuals and families "to grow in missions discipleship" through: "Praying for missions. Doing missions (mission action) and telling others about Jesus. Learning about missions—learning what the Bible says about making Jesus' name known everywhere, and learning what missionaries do. Supporting missions—giving for missions work and encouraging missionaries and their families. Developing spiritually toward a missions way of life—growing every day in our relationship with Jesus Christ…Since 1888, WMU has helped Southern Baptists take part in missions discipleship."
Christian Ministry Center
Here's a local, ongoing need of individuals and families that you have an opportunity to make a difference. This program serves four counties with any qualifying client able to come once every 30 days and receive assistance along with a time of Bible reading and prayer. Dependent on volunteers and support from local churches, businesses and individuals, the Ministry Center is open Monday, Wednesday, and Friday to help individuals and families needing food and clothing. The Christian Ministry Center started in 1988 as a local food bank, daily seeing an average then of six people, served a total of 84 families and feeding 430 individuals. In 2018, the daily average of people served was 26, with a total of 3,542 families, and 10,516 individuals. If you are willing to provide just one item every month, or you can purchase multiple items. You can check the list and provide the same item every month. When you buy an item and place it in the marked containers in the Worship Center, it's also important to pray for the individuals who will be using these items.
Christian Ministry Center
Remember the needs are year-round. When you buy some of these items and place in the containers in the Worship Center, it is important to pray for the individuals who will be using these items.
Current items needed include: cereal, grape jelly, dried beans, cooking oil, salt, flour, sugar, rice, can pintos, can tuna, can chicken, Treet, Pork n Beans, Ramen Noodles, spaghetti sauce, can fruit, black beans, black-eyed peas, soap, shampoo, laundry detergent, toilet paper, toothpaste, and toothbrushes. Place your containers in the marked containers in the Worship Center.
We will celebrate Souper Bowl of Caring on February 2 and invite you to donate financially on that day and throughout the month of February. Make checks payable to FBC Gilbert and mark your envelope and memo line of your check noting "WOM/Souper Bowl." The funds for Souper Bowl will go to Christian Ministry Center. If you have time to volunteer once a week or once a month, there's a spot for you on Monday, Wednesday, or Friday mornings. Contact Robin McCartha if you want more information. Thanks to those who give regularly for this need.
Focus on WMU is February 10-16. This is our annual celebration of mission opportunities. 1 Corinthians 3:9 reminds us that as believers we are "laborers together with God." Each year our WMU offers opportunities for you to get involved in praying, giving, and going for Christ in support of missions. The mission of WMU (Woman's Missionary Union) is to inform and inspire Christians to influence their world for Christ. There's an opportunity waiting for you. WMU Watchword: "So my dear brothers and sisters, stand strong. Do not let anything move you. Always give yourselves fully to the work of the Lord, because you know that your work in the Lord is never wasted." –1 Corinthians 15:58 NCV. Everything accomplished for the Lord in the last church year is because of those who gave and helped. Thank you for supporting missions through WMU and Women on Mission.
Unshakable, March 27-28. You are invited to join the South Carolina WMU Missions Encounter and Annual Meeting at South Main Baptist Church in Greenwood. This is a great time to focus on God's mission and renew our passion. You will be inspired and refreshed from first-hand stories of missionaries and identifying opportunities for you to move into unshakable perseverance in your faith walk. If you have questions, contact Robin at 892-3708.
Health Kits. Through April 19, we are collecting items and monetary donations to provide health kits for ministry to migrants, to homeless, and to others who may be victims of natural disasters in our area. If you make a financial donation, please note on your check memo line "Women on Mission" and on your envelope, note "Women on Mission/Health Kits." A large basket will be available in the Worship Center for donation of items below:
1 Toothbrush
1 Toothpaste, 6 oz.
1 Soap, 4.5 oz.
1 Wash Cloth
1 Comb
1 Bath Towel
DJJ, Birchwood High School
On February 7 and February 14, we will have opportunities to minister to students, visiting with them and serving meals at Department of Juvenile Justice to students who have made honor roll for the past 9-week period and also those who have received other special recognitions during the past period. If you are willing to help or would like more information, contact Robin McCartha at 892-3708 no later than January 24.
Operation Christmas Child
Remember our 2020 church-wide group goal will be 150 shoeboxes. Thanks to Rebecca Spears for once again organizing this effort. Join the fun opportunity to collect the items below. Large boxes decorated for Operation Christmas Child Shoeboxes will be labeled for your donation items in the Worship Center. In February, we are collecting deodorant, toothbrushes, and washcloths. 2020 items needed are:
soap and soap dishes from January;
toothbrushes, deodorant, and washcloths in February;
cinch sacs, matchbox cars, and plush toys in March;
tennis balls, hair bows, and bracelets in April;
plastic cups, sturdy forks & spoons, and hats in May;
fishing lines and sewing kits in June;
crayons and coloring books in July;
pencils, erasers, pencil sharpeners, notepads, and scissors in August;
socks and underwear in September;
and then in October we will let you know what items are still needed from the year's collection.
We're Here for You Day, April 18. That means you can start spring cleaning early. Your clean, gently used clothing and shoes are needed for this community outreach day. Your items are needed by April 17, and volunteers will be needed to help sort items as well as minister to those in need who will come and select items.
"We must not love with words or speech, but with truth and action."