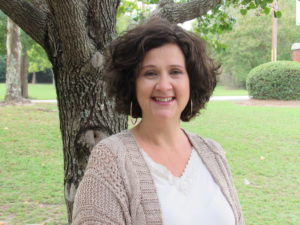 Kim Jackson gave her life to the Lord when she was 33 years old, and she will tell you that God has never ceased to amaze her.
Kim has been in church administration for over eight years. She has been the Ministry Assistant at FBCG since 2013, and we are so grateful to have her on our staff! Kim is passionate about encouraging and inspiring newly converted Christians as well as teaching women to be strong in their faith and to be steadfast in reading God's Word.
Kim and her husband Scott reside in Leesville, SC and have three children. Kim loves spending time with her family. One of her favorite things to do is to go on fun outings and shopping sprees.
Kim's life verse is Jeremiah 3:33, which says: "Call to Me, and I will answer you and show you great and mighty things, which you do not know."
When asked what was her favorite thing about FBCG, Kim replied, "I love the way FBCG loves on everyone that comes through the door!"